Inventory Management gives you greater visibility into your units, including the ability to see recent photos and videos, damage history, and inspection history. Use this section to review the condition of your inventory, and schedule inspections for specific units.
---
Unit List
To access a list of your units, click on "Units" on the left hand side navigation from the Dashboard.
From here, you can view a list of your units. All columns are sortable, and you can filter on Unit ID, Damage, and Location. Additionally, you can search for your units from the search bar.
Unit Detail Page
Click into an individual unit to see the Unit Detail page. From here, you can view:
Photos and videos from the most recent inspection
Unit information (when it was last inspected, number of inspections performed, whether damage was recently flagged etc)

Geographic location
Inspection history for a unit

Activity log
Additionally, users can comment and attach files to a unit from the right hand side of the Unit Detail page.
Schedule an Inspection
You can schedule an inspection for a unit from both the Unit List view and the Unit Detail page.
From the list view, click on the "..." icon followed by "Schedule Inspection" next to the Unit ID you'd like to inspect.

Alternatively, click on "Schedule Inspection" directly from the top right of the Unit Detail page.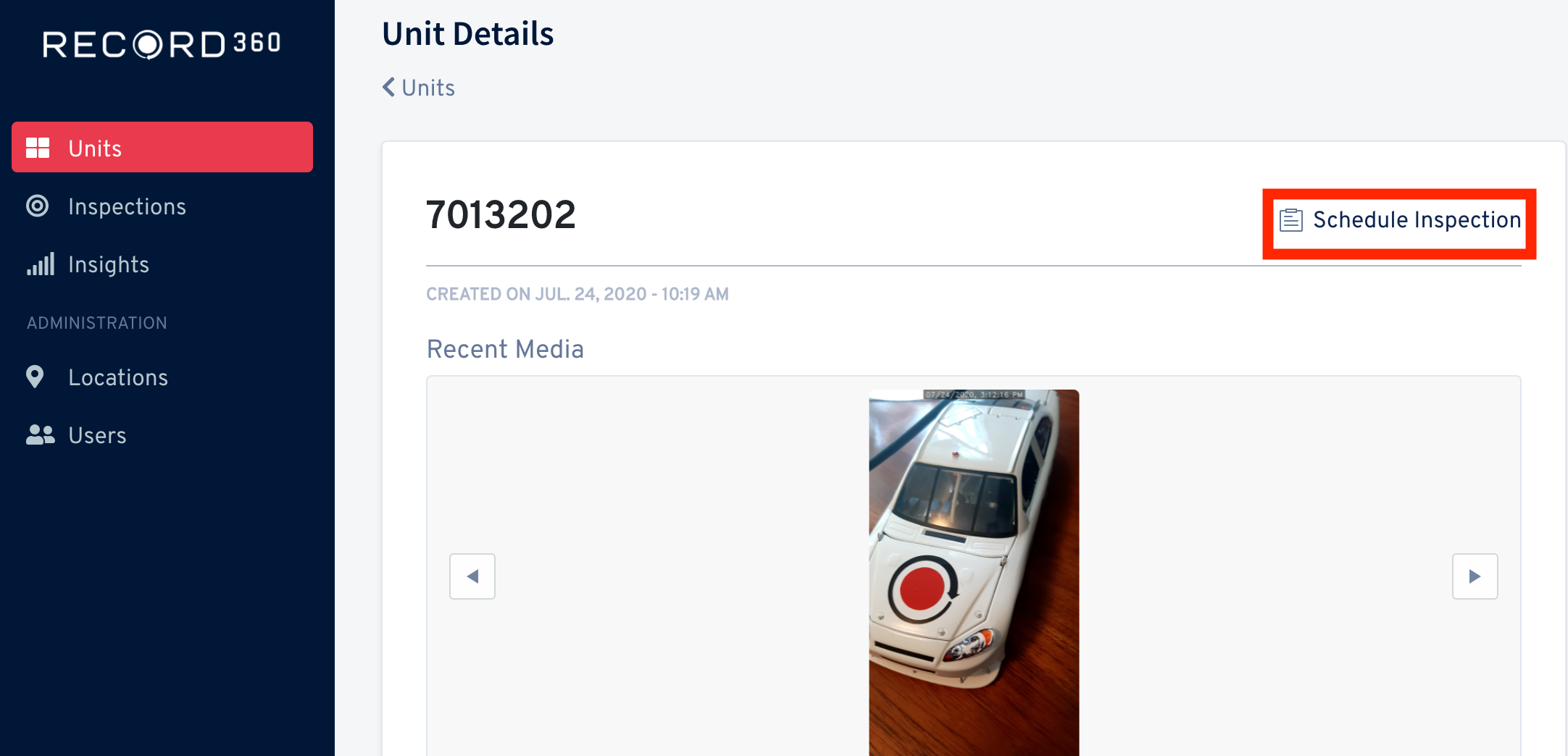 Scheduling an inspection from either the Unit List view or the Unit Detail page will take you to the Draft Create screen, with the Unit ID & Location auto-populated on the screen. If you have multiple workflows as part of your account, you can choose from those here.
Deleting a Unit
Sometimes units are created by mistake, either by entering a Unit ID that doesn't actually exist in your inventory, or by mis-typing an existing Unit ID.
If you need to delete a unit that does not have any inspections, simply scroll to the bottom of the Unit Detail page.
If you mis-type a Unit ID on an inspection, you can edit the Unit ID directly on the Inspection Detail page in order to associate it with the correct unit.
You are unable to delete units that have inspections. In order to delete units with inspections, you will need to first delete all of the inspections associated with a unit. Please keep in mind that if you choose this approach, you will lose valuable inspection data. If you have any questions about the best approach to delete units, please contact support@record360.com