eSign allows you to send inspections, as well as other pdf documents, to your customers for digital signature. Easily view the status of eSign requests directly from the dashboard, and download signed documents for your records. Read on below for everything you need to know about eSign.
---
Request a Signature
To request a signature on an inspection, visit the Inspections Page on the dashboard. You can request signatures on inspections multiple times if needed. There are two ways to request a signature:
Click "Request Signature" from the triple dot icon on the inspection list view next to the inspection you need signed.
Click "Request Signature" from any inspection detail page.
Send Documents To Your Customers
Once you click "Request Signature", you'll be taken to the signature request modal. From here, you can do the following:
Enter the email address(es) for the recipient(s) of the signature request. To send to multiple recipients, simply separate email addresses with a comma.

Customize the subject line or body of the signature request email that is sent to your customers

Choose the inspection summary pdf template that you'd like to send

Attach any additional PDFs that you need signed

Send to your customer!
The subject and body that you see on the request modal will automatically populate based on your eSign email template, which is customizable. Additionally, you can edit the language on a single request to convey a particular message to your customer.
The inspection summary will automatically attach to the signature request. If you have multiple inspection summary pdf templates, you can choose which one you'd like to send from the dropdown.
In addition to the inspection summary, you can attach any PDF to the request that you need signed, such as a rental agreement.
From there, simply press "Request Signature" to send the documents to your customer for signature!
eSign Email Template
Once you send documents for signature, your customers will receive an email with a link to sign the documents. The email includes:
Clear language on the number of documents to be signed
Links to each document to complete signature
Subject and body that was included on the request
Every eSign customer has the opportunity to create a custom eSign email template. This allows you to customize the following:

New default email subject line
New default text for the email body
Company logo
Heading & button color to match your branding
Automated Reminders
If your customer fails to sign any documents in the request, they'll automatically receive email reminders 48 and 96 hours after the request was sent. No need to set calendar reminders yourself!
Stay Information on Your Signature Requests
There are a number of ways to keep track of your signed documents with eSign.
Whenever a document is signed, both you and the signee will receive a confirmation email with a link to the signed document. From here, you can view and download the fully executed document.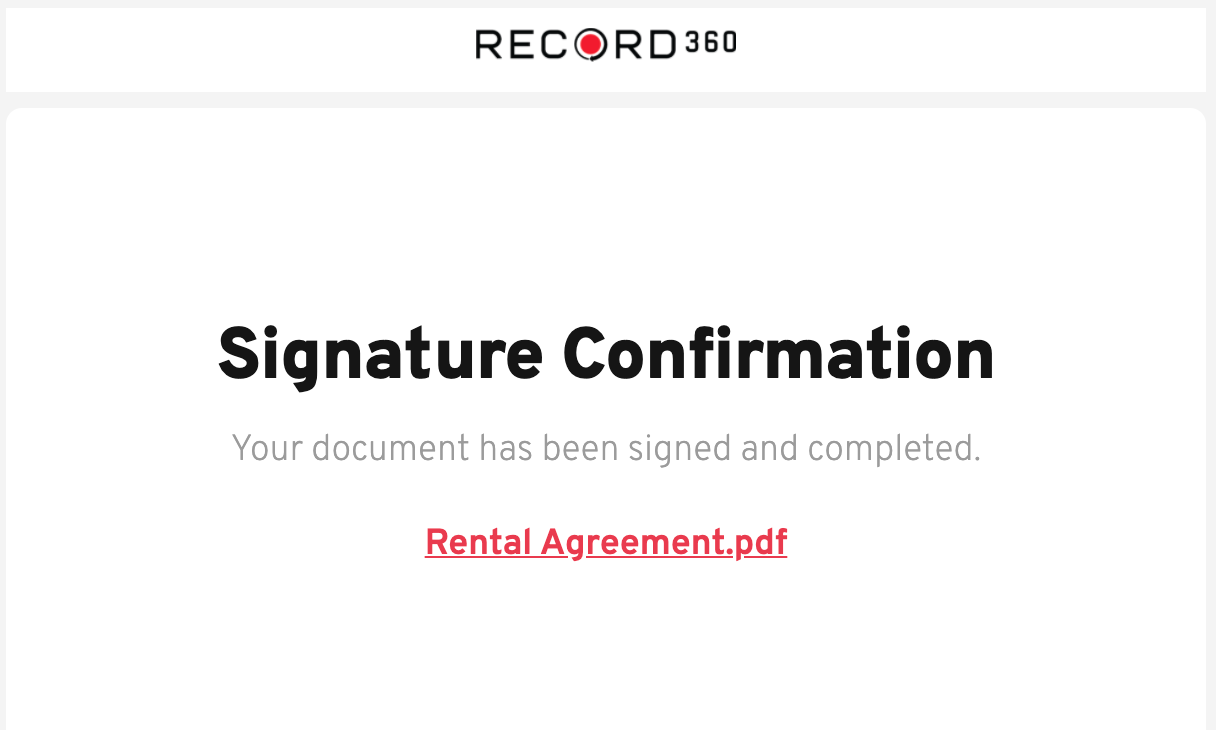 View the status of eSign requests from a new column on the Inspections list view. A status of "Requested" means that there is at least one unsigned document in an open request, and "Completed" means that all the documents in all requests have been signed.
View additional status detail on your eSign requests directly from a new eSign section on any Inspection detail page. From here, you can view the status, signee, date requested, date signed, IP address, and documents included in the request. When documents have been signed, you can view and download them directly from here.

There are 3 status options available from this section:

Requested - Documents have been sent to a customer for signature, but have not been viewed or signed.
Viewed - At least one document in the request has been viewed. One or more documents may have been signed, but there is at least one unsigned document.
Signed - All documents in the request have been signed.

How Can I Get eSign?
eSign is available to all customers on Record360's Professional pricing plan. If you'd like to upgrade to Professional, which includes a ton of other great features including API Access and Job Board, please contact your Account Executive or sales@record360.com.
If you'd like to try eSign risk free for 14 days, sign up for a trial here!
Note: We do not recommend using eSign with Internet Explorer 11, as you may experience slow loading times on documents. We recommend you try Microsoft Edge or Google Chrome instead.